Aboutus
The prevailing theory, though unconfirmed, is that only about a half of a percent (0.5%) of all companies have what it takes to last 100 years. From that very small percentage that reach the centennial mark, far less reach the milestone of remaining family owned and operated. United Engine and Machine Co. (UEM Pistons) proudly holds both distinctions and is now in its 4th generation of leadership.
The story of UEM is very much a classic American story, one of family, one of innovation, one of perseverance. What a better place to start such a story, but in 1922 amongst the dusty orchards of Fresno California. An Italian immigrant by the name of Deuta Sulprizio, Sr. decided to turn his love for automobile racing into a livelihood. As with so many ambitious new Americans, he converted his garage over into a small factory where he decided to make pistons.
He quickly gained a reputation for making high-quality products. In 1930, the company moved to San Leandro, California where it supplied OEM manufacturers located on the West Coast.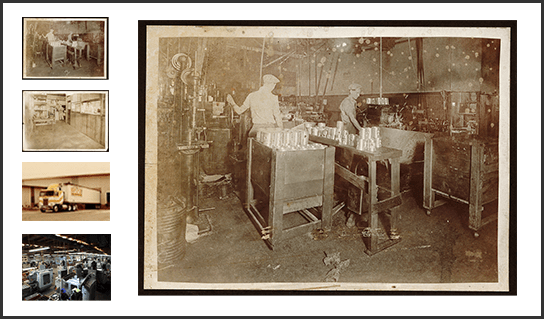 UEM continued to grow until the start of World War II. During the war, the company's emphasis changed. No longer was UEM solely a piston manufacturer but started supplying special marine applications for PT boats and some small munitions. Following the war and the death of the founder in 1946, the company once again directed its efforts back to pistons. Management was now handled by the sons, Ray, Deuta and Chal Sulprizio.
The company always leveraged its strengths: flexible management and a culture of innovation. UEM designed and built virtually all its own manufacturing equipment giving it an edge in the marketplace. These philosophies fueled the company's success through the 50's, 60's and 70's. UEM relocated to Carson City, Nevada in 1978, and has continued to grow. Since their move, UEM has continued to expand their role in the domestic and world market.
Due to heightened demand for high-quality pistons in markets throughout North America and the Americas, additional manufacturing capabilities were added in Mexico which is now the primary production location. Recognizing further opportunity, UEM has now expanded globally starting a high technology diesel division in India. All production facilities maintain the do-it-yourself culture remain 100% family owned and managed by the UEM team. Processes start in UEM foundries, extend through full CNC machining lines, and end with leading-edge coating centers.
UEM continues to innovate with extensive in-house design and development capabilities enable the complete development and manufacture of nearly every engine's piston needs. The organization is still under ownership by 3rd generation Scott Sulprizio who takes a very active role in technology advancement and development. His son Christopher Sulprizio was recently named President and is leading the company into yet another era of success.
The automotive aftermarket is about using the cars we have and fully utilizing that resource until its life is met. On the race side it is about innovation, performance, and winning. We believe in what we do and the pistons we make. We love providing prosperity to our employees and reliable mobility to our customers. We love the communities we serve and to be part of an industry that values the responsible use/reuse of our resources.